Our History
Columbia Metropolitan Airport today is a far cry from the vision of the early aviation pioneers who established in the early 1940s a landing area in Lexington County known as the Lexington County Airport.
---
1940-1949
In 1941, Lexington County Airport (which sat on the property we now call Columbia Metropolitan Airport) came under formal military control – after the United States Army Air Corps expressed a need for the airfield to help buildup its forces after WWII began. The civil airport was turned into a military field and Lexington County Airport became Columbia Army Air Base.
In 1942, the 17th Bombardment Group arrived at Columbia Army Air Base. Twenty-four B-25 bomber crews of this group volunteered to take part in an "extremely hazardous" and secretive mission lead by Lt. Col. James H. Doolittle.
This came to be known as the famous Doolittle Raid on Japan and these men came to be known as the Doolittle Raiders. During the Doolittle Raid, sixteen of the 24 bomber crews were launched – each crew consisting of five men .
This totaled 80 heroes of the mission.
Various military training continued at Columbia Army Air Base until 1945, when it was converted back into the civil airport,
Lexington County Airport (now CAE).
(From 1947-1949, an Air Force Reserve unit was assigned to Lexington County Airport, but it was never equipped or manned.)
In 1947, Delta Air Lines and Eastern Air Lines moved their operations from Owens Field to Lexington County Airport because a larger facility was needed. Unfortunately, on the same day in January of 1947, the wooden terminal building – which housed offices of airlines, waiting rooms, and a restaurant – burned down. The fire was discovered by the co-pilot of a Delta Air Lines flight that had just landed from Atlanta.
A large hanger was used as a temporary terminal until the new terminal was built – estimated to cost $400,000.
---
1950-1959
During the 1950s, city of Columbia officials agreed that a formalized group whose goal was to help manage and support the direction of the Lexington County Airport was needed.
Beginning first as a test commission and later in the early 1960s established as the official Richland-Lexington Airport District (RLAD) Commission, the group was made up of elected individuals who provided input on the creation of a
new airport and its overall operations.
During the late 1950s and into the early 1960s, the "test commission" task force tackled numerous projects for the airport that included the rebuilding of the burned Lexington County Airport terminal that occurred in 1947, as well as the development of plans to ensure the airport served both Richland and Lexington counties.
Before moving into the new terminal ( located where CAE is today ), the group celebrated the success of the airport welcoming just over 99,000 air passengers between 1951 and 1954 ( air operations taking place in the temporary terminal ).
Further business development progress also came as a result of the formation of this group, as they worked to coordinate the purchase of and establishment of the first Fixed Base Operator/Operation (FBO) in 1953, owned and run by Harold Wilson. In the late 1960s, this FBO was purchased by Mike Laughlin and the name was changed to Eagle Aviation – what it remains today .
---
1960-1969
The 1960s were an exciting decade for CAE – an era that truly laid the foundation for the CAE we know and love today.
In 1965 – after many years of studies, planning and construction – Lexington County Airport re-emerged as Columbia Metropolitan Airport (CAE), and was officially dedicated in May 1965, complete with a 2-day long ceremony of more than 75,000 guests who showed up to celebrate their newly rebuilt hometown airport.
The construction of the new airport cost $7.3 million and consisted of a 100,000 square-foot terminal, a 500-car parking lot,
two runways, $5,000-worth of greenery inside the terminal, and more – with lots of room to grow.
It was deemed one of the most beautiful airports in the United States by many and " Modern, sprawling and up-to-date in every way " by Wyatt Taylor of the Cayce-West Columbia Journal.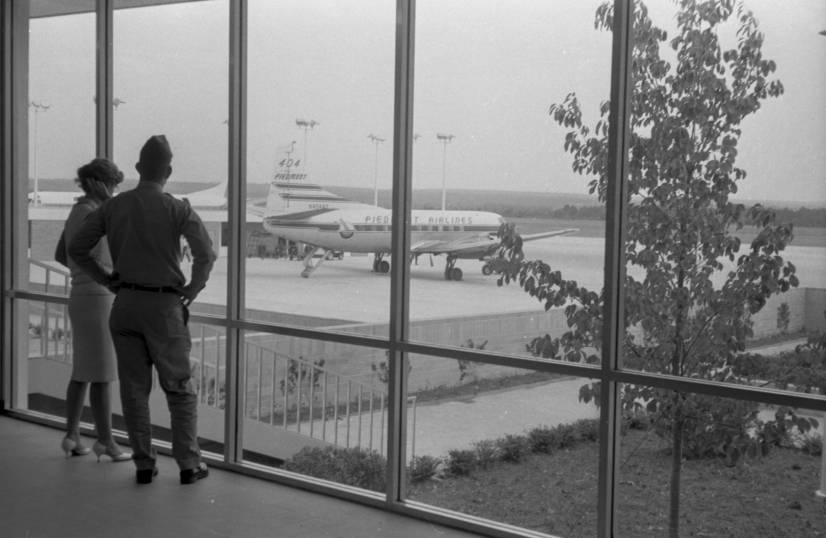 Throughout the construction of CAE, Piedmont, Southern Airways and Eastern Airlines were all serving the airport from the temporary terminal. During the dedication ceremony in 1965, Delta Air Lines promised to return its service by 1966.
Delta Air Lines kept its promise and joined the CAE team in 1966, offering nonstop flights to Charleston, Asheville, Jacksonville, Augusta, Savannah, New York and Atlanta.
In the peak of the airport's passenger traffic in the 1950s, it saw 43,000 people through the airport. In 1963, that number more than doubled reaching 94,000 passengers. In 1964, it climbed to 228,000 air passengers. And by 1968 – with four airlines and 35 daily flight s – 500,000 passengers traveled through CAE.
---
1970-1979
With a strong focus on forward momentum for the airport and aviation in the Midlands Region in general, the 1970s proved to be a pivotal decade for CAE.
In the late 1970s, CAE's executive director Monroe S. David resigned after nearly 20 years in that position. In November 1977, Robert H. Waddle of Charleston, was named the new executive director of CAE. Waddle dove headfirst into the position and immediately started carrying out the airport's 20-year master plan.
Throughout the 1970s, CAE underwent a massive expansion which included enlarging the terminal, increasing parking spaces, developing access roads, and building a vehicle bridge to go over lower-level parking. The terminal expansion added 32,000 square-feet of space for the baggage claim area and its offices, rental car counters and more.
This expansion project provided CAE with an enormous amount of space to grow for many years to come.
Also throughout the 1970s, air service at CAE skyrocketed. Additional daily flights were added to already existing nonstops, service to New York began via Piedmont Airlines, and Delta Air Lines added a more convenient route to get to the west coast as well as an international route with a stop in Atlanta.
---
1980-1989
Business was booming for Columbia Metropolitan Airport in the 1980s.
In June 1982, CAE officially became self-sufficient. What this meant was the airport no longer needed to use tax support from property owners in Lexington and Richland counties to support its daily operation. At that time – and still today – daily operations were supported by parking revenue, aircraft landing fees, space rental fees from airlines, concessionaires, and various businesses located on the airport's campus.
Also noteworthy for CAE in 1982, the airport added a full-time U.S. Customs Service staff and became a Port of Entry.
The Columbia Port of Entry is a full-service facility that provides clearance for in-bound international cargo shipments, as well as required clearances for private and commercial/charter aircraft ( for a limited number of passengers ) entering Columbia from international locations.
Air Service Development at CAE was also on the rise in the 1980s. In 1983, United Airlines joined the CAE team and added nonstop service to Charlotte and Chicago, and later, in 1987, began nonstop service to Washington, DC. Not long after United joined the team, American Airlines came on board and added nonstop service to Raleigh in 1985. That same year, low cost carrier PEOPLExpress ( which was acquired by Continental Airlines in 1987 ) came to CAE, too, offering nonstop service to Newark.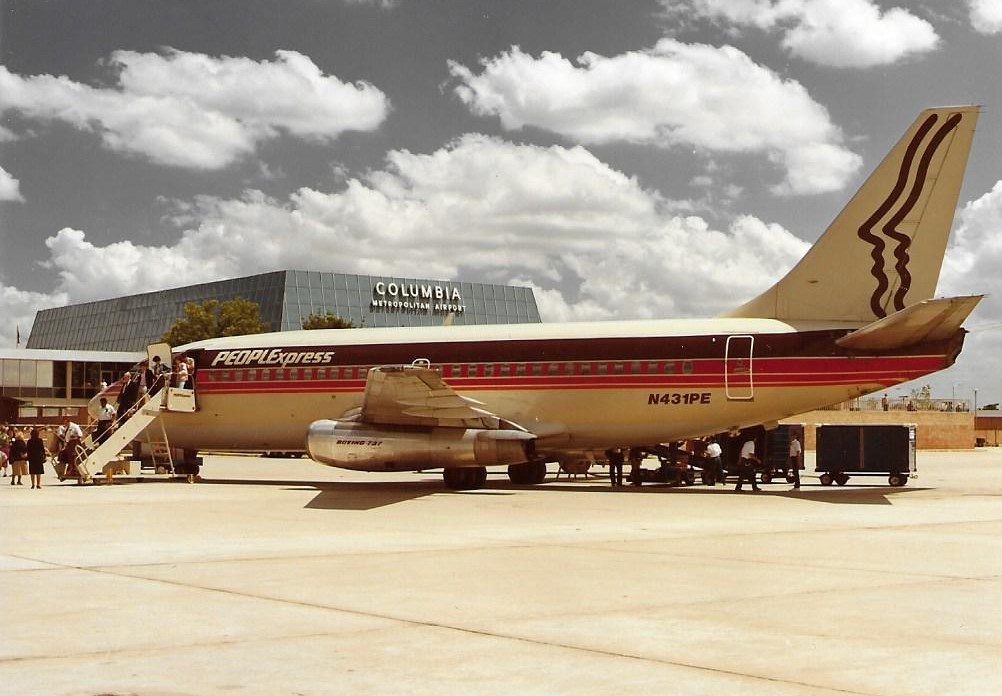 In 1985, CAE announced plans for the creation of CAE Enterprise Park – land owned by CAE near the airport campus that commercial builders would be able to develop. CAE also started work on a large-scale expansion project between two concourses. This multi-level structure would add more seating and a space for concessions, a gym for employees and needed airport storage space in a basement.
On September 11, 1987 a once-in-a-lifetime experience happened at CAE: Pope John Paul II arrived at the airport's Eagle Aviation to visit Columbia. To begin his historic visit, the Pope did a brief greeting on the tarmac for a crowd of 100+ people. Although not as many people showed up as airport officials initially planned for, special accommodations were made onsite for spectators – such as a campsite for both RVs and tents on Platt Springs Road. Some campers came from as far away as Arkansas and Ohio just to catch a glimpse.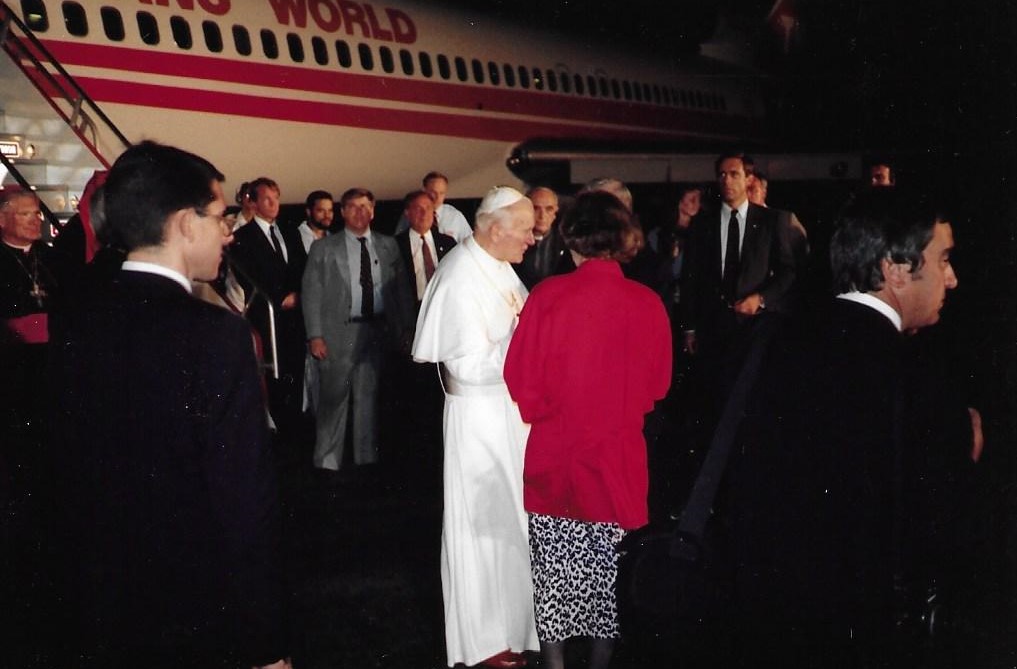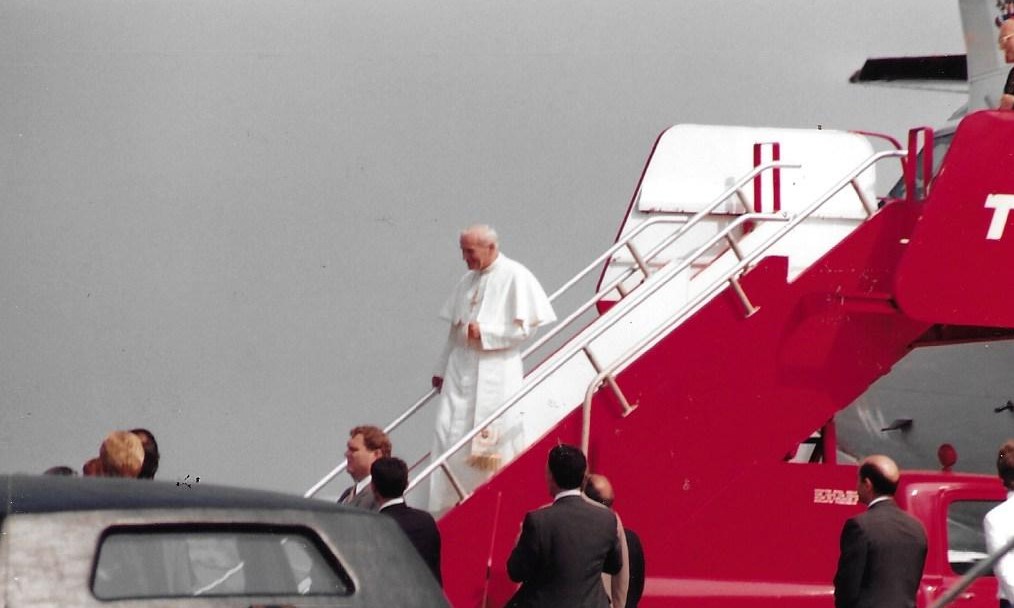 ---
1990-1999
The early 1990s brought with it a surge of new air service to the Midlands.
New routes meant new opportunities for both the business and leisure communities. With each announcement, the Columbia Metropolitan Airport further solidified itself as a major economic engine for the ongoing growth within the capital city.
USAir Airlines ( now American Airlines ) added two nonstop flights from CAE to New York City, Continental Airlines ( now United Airlines ) added a daily flight from CAE to Newark, NJ and Atlantic Coast Airlines/United Express ( now Low Cost Carrier, Independence Air ) added nonstop service to Washington – Dulles.
In addition to new air service for CAE's commercial operation, the cargo operation was also beginning to take off… literally!
In 1994, United Parcel Service (UPS) announced plans to locate a Southeastern regional air cargo hub at CAE. Two years later, in 1996, an $80 million UPS hub opened bringing with it roughly 900 jobs. This hub, one of six regional hubs throughout the US, had a seven acre building and 40 acres of available plane parking. During its full operations, employees of the hub were able to sort 40,000 packages per hour.
During this pivotal time for CAE, the airport completed another major terminal renovation, beginning in 1995 and concluding in 1997 with a multi-day community celebration and grand opening. From ribbon cuttings and terminal tours, to static aircraft displays, Airport Police K-9 Drug Unit demonstrations and ramp tours, the grand opening marked a significant moment in the history of CAE.
One news article quoted then Delta Air Lines station manager, Phil Kempton, saying, " It's so functional. I don't think they could have done it better. "
Then airport director, Bob Waddle said, " This is a point of pride for me. I'm proud of the people on the staff, and I'm proud of this community. "
David King, then marketing director of the Central Carolina Economic Development Alliance said what we still feel today,
" This new airport is one of the best in the country and a major piece of the community puzzle. "
With the opening of the new terminal also came a rebrand of sorts for CAE.
For a number of years, CAE used an abstract, airplane-like graphic with the airport's name as its logo, then, in the early 2000s moved to a graphic that was reminiscent of the top of the newly constructed parking garage. This logo remained in place for nearly 20 years – serving the airport well in news releases, on the website, in external communications and on social media.
With the changes of the visual elements of CAE's story and brand also came updates to its tagline. In the early 90s CAE used, " Soaring into the Future. " In the late 90s-early 2000s it changed to, " Columbia Metropolitan Airport… The Only way to Fly ."
Shortly after and also in the early 2000s, there was a final shift to " Fly with Ease, " a tagline that has stood the test of time and is still used by CAE today.
---
2000-2009
Columbia Metropolitan Airport began the new millennium on a high note, providing 56 daily departures to 14 nonstop destinations. The tragic events of September 11, 2001 reshaped CAE – much like the entire aviation industry – for many years to come.
CAE ended 2001 losing nearly a dozen of its daily flights and two nonstop destinations due to things like: an airline declaring bankruptcy and flights to specific airports being halted indefinitely.
The heightened security efforts surrounding airports following September 11, also caused a delay in CAE's multi-level parking structure project – which was announced earlier in 2001 . It went out for re-bidding in 2002 to allow contractors to factor in the cost of increased security at the construction site.
The project was completed in 2003 adding 1,837 parking spaces and cost about $23 million. It consisted of a central atrium with the airport's signature blue pyramid roof and southern-style courtyard full of trees – the parking garage that eventually became to be iconic to loyal CAE passengers and the focal point in countless photoshoots .
Passenger numbers at CAE continued to recover over the years as the aviation industry, as a whole, fought hard to
get back on its feet.
In 2003, Northwest Airlines ( which merged with Delta in 2008 ) began service at CAE – with a daily nonstop flight to Detroit. In 2005, they increased their offerings and added daily nonstop flights to Memphis. Also in 2005, American Eagle (a subsidiary of American Airlines ) began nonstop service to Dallas/Ft. Worth – a nonstop flight still offered here at CAE today .
In 2005, CAE set a record for year-end flights with a total of 1.4 million passengers departing and arriving.
By 2009, CAE was served by 8 airlines to include: Allegiant, American Eagle, Continental ( who later merged with United ), Delta, Northwest, Spirit, United and US Airways ( later merged with American Airlines ).
In late 2009, it was announced that the new United Service Organizations (USO) South Carolina center would be coming to CAE and Joanie Thresher was announced as the center director – and remains the director today.
The USO at CAE officially opened in 2010 and serves nearly 10,000 soldiers and their family on a monthly basis.
---
2010-2019
2017 was a year of innovative advancements for CAE with the addition of a solar farm on the airport campus.
This unique energy source allowed the airport to tap into the output of a 4,320 panel, 1.38-megawatt solar array – the first of its kind at an airport in South Carolina .
This initiative was part of a larger, $60 million capital improvement plan that was started seven years prior in 2010. Having the solar panels in place allowed the airport to capitalize on energy efficient improvements while lowering operating costs throughout the terminal.
Mike Gula, our current Executive Director, was promoted to the top position at CAE in 2018 after spending time on the CAE team as the Director of Operations.
Mike began his career at the Toledo Express Airport after graduating from Bowling Green State University with a bachelor's degree in Aviation Management. He continued working within the industry at both Bluegrass Airport in Lexington, Kentucky, and Greenville-Spartanburg International Airport before making his way to CAE.
Aircraft changes made for another positive moment for CAE in 2018. In March of that year, American Airlines changed out their 76-regional jet with a 140-mainline aircraft.
This change added more seats in the market for more Soda Citizens to get where they're going… with ease. This change in aircrafts also marked the largest jets to fly out of CAE in over 26 years. To date, this service – CAE to DFW – remains one of CAE's top nonstop routes.
Closing out the decade, in early 2019, CAE decided to revive a colorful program that always had mass appeal – Art in the Airport .
In rethinking this program, the team decided to put out an official " Call for Artists " throughout the Midlands region. The goal was to select four, professional artists from the area to be featured in the connector of the airport. Since refreshing the program, 11 artists have had their art adorn our walls for our passengers to enjoy.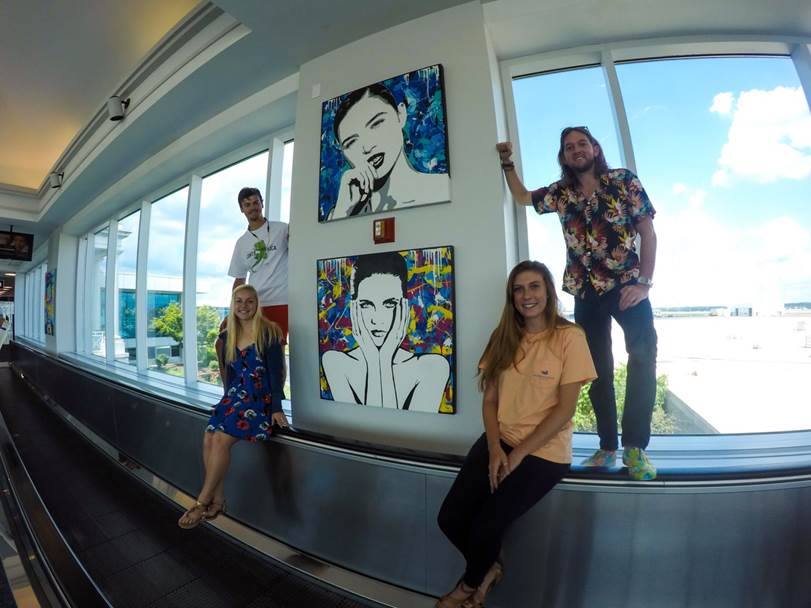 In addition to the professional art on display, CAE also created a nonprofit arm of the Art in the Airport program. Transitions Homeless Center, community organization in place to help individuals move from homeless to self-sufficiency, displays artwork from clients in CAE's food court every year.
---
2020-present day
At the start of 2020, CAE was on a high note.
Coming off a golden year in 2019 seeing 1.3 million passengers through the airport, CAE was poised and ready to exceed
its previous milestone year.
In February of 2020, CAE unveiled its refreshed brand – complete with a new logo, new color scheme and new website. This project incorporated the thoughts and input of not just the marketing team, but the entire staff as well as local leaders and stakeholders. The culmination of a years-long effort was well received by the community and embraced immediately.
In March of 2020 the world came to a screeching halt because of the global pandemic, COVID-19. Air travel all but stopped and the uncertainty of what was next was a visceral and raw emotion.
Through the roughest of patches, the CAE team grew closer and did everything they could to ensure the airport and those who had to travel were safe and protected.
During the height of the pandemic, the CAE team didn't sit idle. A bi-monthly newsletter, Takeoff to Touchdown , was created
and began disseminating pertinent information about the airport to members of the community.
In August of 2020, an online store was launched and parking enhancements were made that would be sure to make the travelers' experience was that much easier when they returned to air travel. Some of the enhancements included red and green LED lights over each parking space indicating if that spot was available or not, as well as an online pre-book parking option.
In December 2020, CAE completed Global Biorisk Advisory Council® (GBAC) STAR™ certification training to earn the classification as a public facility who met or exceeded cleaning standards set by this council's international standards.
Over the next two years, the CAE team worked around the clock to ensure that accurate and timely information was shared with its passengers and traveling community to safely get people back traveling.
COVID response messaging was implemented throughout marketing messages both inside and outside of the airport, while social media played a vital role in communicating changes and updates to travel guidelines.
Through the ups and downs, CAE weathered the storm together – coming out even stronger than before.
In May of 2022, CAE welcomed the South Carolina Air National Guard to the CAE campus for a temporary operation.
Because their F-16 runway needed to be resurfaced, they relocated their flight operations from McEntire to CAE. The excitement around having these powerful aircraft fly out of our airport was evident from the very first flight. We like to say it's the sound of freedom! This temporary relocation is set to conclusion in January of 2023.