I think we all know that Ryan Reynolds is a charmer. Since his days"Two guys, a girl and a pizzeriato his recent work as The Merc with a Mouth, this Vancouverite is hot property. Apparently he's so hot he got his own (unofficial) coloring book thanks to the illustrator Maurizio Campidelli. So what's in this lusty compilation of nifty coloring pages? Well, let's take a long lewd look.
For starters, you get 35 hand-drawn "daydreams," as the product page says. Say what you want about the coloring book, but if this artist managed to capture daydreams on paper, we need to send this dude to a science lab immediately. They materialize dreams on paper! Must be worthy of a Nobel Prize or something, right? Plus, you get "biographical information about his life and work." You know, in case you haven't heard of Wikipedia or "the internet" you probably used to buy this book in the first place.
But look at this sexy charmer. There he prepares a martini strictly by tapping a barrel of some kind of alcohol. Maybe it's bourbon, maybe it's whiskey, maybe it was born with it, maybe it's Maybelline. All I know is that he makes a drink usually consisting of gin and vermouth using a tap directly. Not only is that impressive, but he knows it, which is why he gives us such a seductive wink.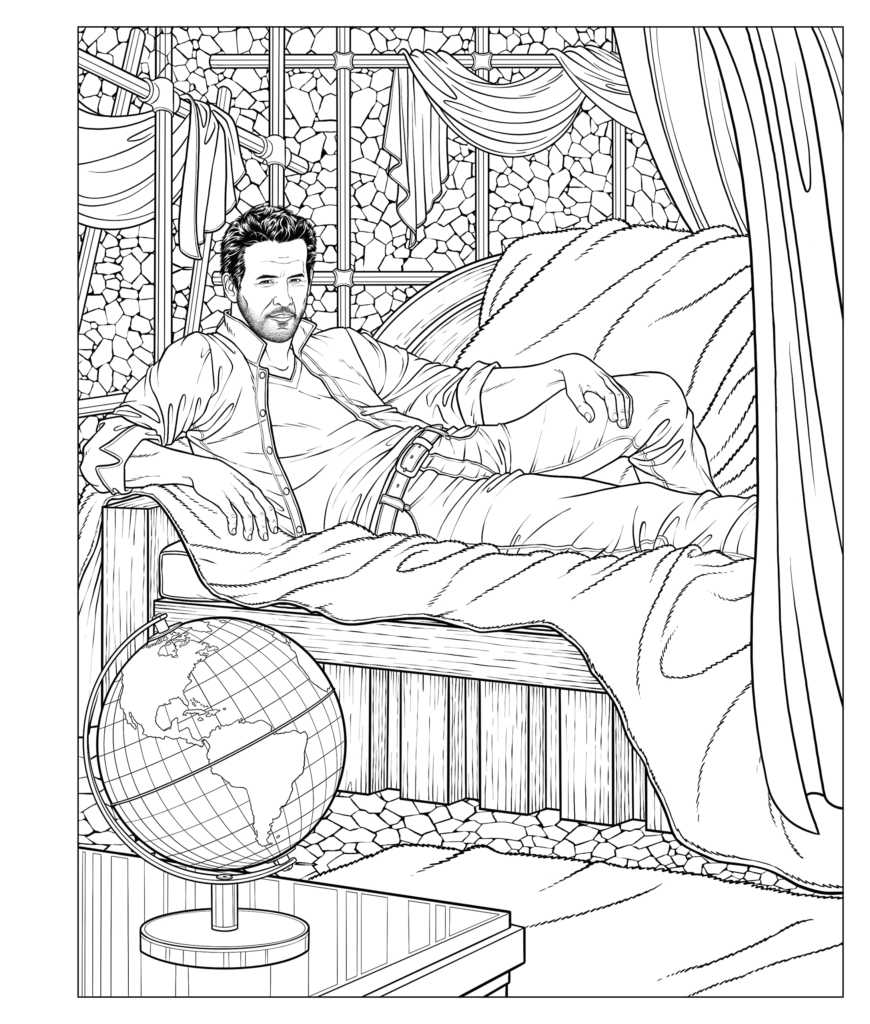 Or what about here where Ryan gives us his best "come here" look while lounging on a bed that looks like it's in a medieval stone cabin. In fact, maybe it's not even a come here look, maybe it's a "the mutton was extremely undercooked" look and now he's nauseous. Either way, he's surrounded by sheets and curtains and even placed a globe on his desk to show how cultured he is. That's right, Ryan isn't just going to love you and treat you right, he's going to show you the world. Which, I'm going to be honest here, I really want to know why there's a globe. For example, we didn't NEED a globe in the photo, so why is it a globe? Why not flowers or a basket of fruit or something?
Either way, this thirst trap coloring book can be yours right now. Order it on Amazon here.
So if you're craving Ryan Reynolds and thinking, "I'm not excited enough about my arts and activity books," then this is what you've been looking for. You may also appreciate the paradoxical element of how this book can help bring new meaning to your life while realizing that the existence of the book itself suggests that life is meaningless.
DISCLOSURE: This post may contain affiliate links. This means that when you click on the link and make a purchase, we receive a commission, which helps Nerdbot keep the lights on.