ST. ALBANS CITY — "All of you here today were invited to the barbecue," Reier Erickson said into a microphone Sunday.
In the parking lot of the Saint Albans Museum, he welcomed a crowd of more than 100 people for an inaugural commemoration on June 19.
Behind him, burgers were cooking on the grill, and folding tables covered with plastic tablecloths offered pasta salads, beers, fries and salsas.
Erickson explained that the event was both a literal and a metaphorical "cookout," because saying someone is "guest at the barbecue" is a symbolic way that black people honor their non-black allies – like Dolly Parton and the senator. Bernie Sanders.
"But being invited comes with a responsibility," Erickson added. "You must help disrupt white supremacy. It's a call to action.
The public commemoration of Sunday, June 19, 1865 — the day black slaves in Texas first learned of the Emancipation Proclamation — was a first for the city of St. Albans.
However City mayor Tim Smith proclaimed in 2021 the city would join the state of Vermont in recognizing June 19 as a day of remembrance, no official event was held.
This year, community organizations, the Saint Albans Museum and St. Paul's United Methodist Church worked together to organize an event that was more successful than expected.
"I usually say it's just the misfits who show up at this type of event," Erickson told The Messenger. "But it's better than I had hoped for."
Sunday's turnout was diverse, as people of different ages and backgrounds came together to talk, listen and eat great food.
Drinks were provided by Groennfell Meadery and Lawson's Finest Liquids and most of the food was provided as a potluck. Kaiju Kitchen, a new Japanese take-out restaurant coming to downtown St. Albans, was also on hand to give the community a taste of their dishes.
Attendees got to have their faces painted, enjoy a bouncy house, and talk with students from Bellows Free Academy – St. Albans' social justice club and representatives from Spectrum Youth and Family Services.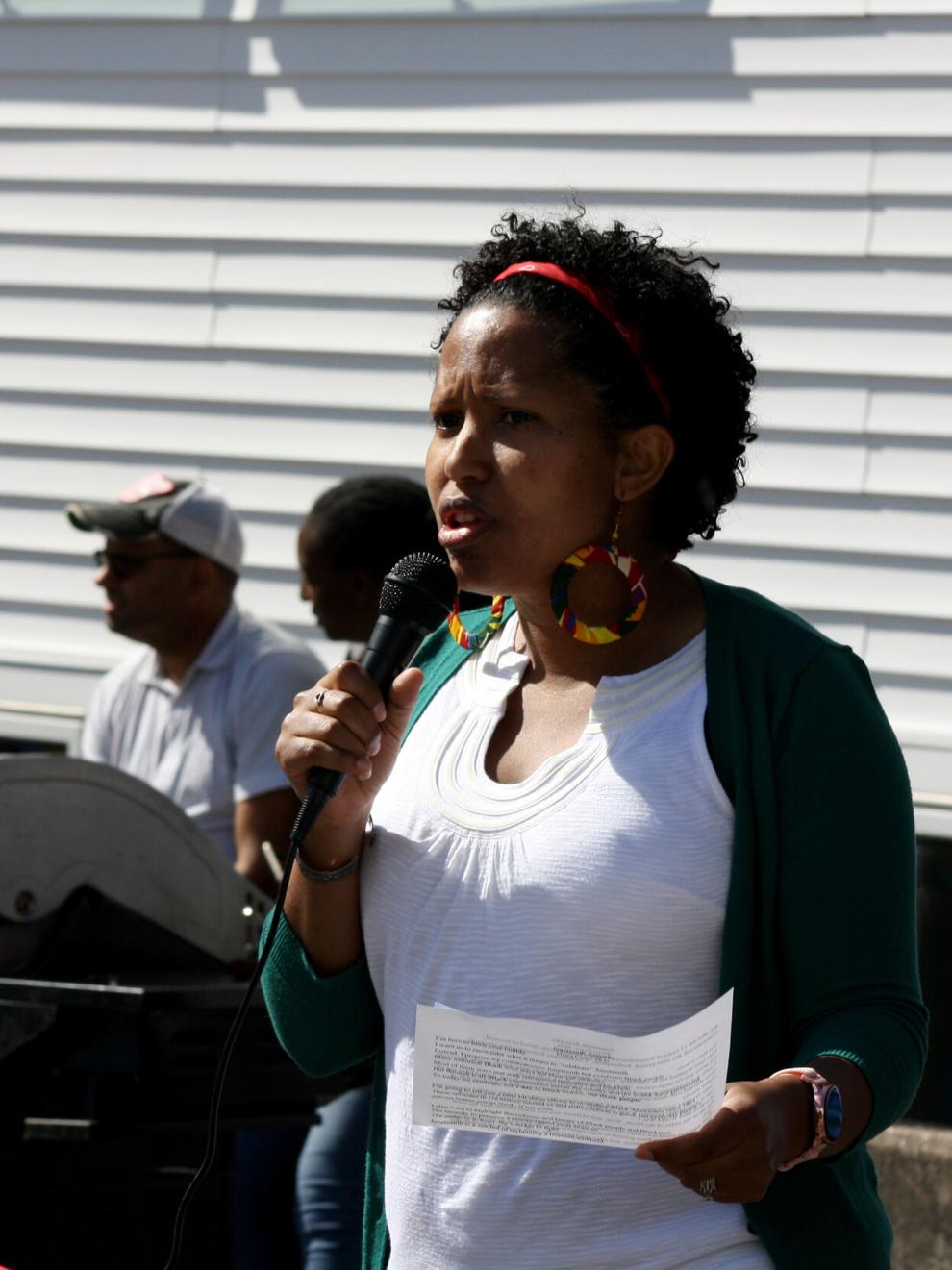 Voices Against Violence offered Juneteenth coloring pages and anti-racism activities for families.
The event was also part celebration of Pride Month, and St. Albans residents Sean and Hannah Maille said they attended not only because it was a great way to spend the weekend, but because they felt the need to support their friends and neighbors.
"I'm queer, even though I show up in a heterosexual relationship," Hannah Maille said. "Vermont sometimes seems seamless, so I felt the need to introduce myself and represent the community."
Around 4 p.m., Erickson and his wife Lauren Dees-Erickson invited a number of people to speak at the microphone. Elaina Castro, educator and member of the city's Belonging, Equity and Inclusion Committee, shared what she sees as the purpose of the day's event.
"We have to recognize that we can't celebrate June 19 because it's not really a holiday where freedom has been delayed for so many people," she said. "But we can celebrate black people and that's what it's all about."
Castro encouraged those gathered to reflect on the injustices black people have suffered in the United States — from slavery and sharecropping to voter suppression and police brutality — and to celebrate black resistance and resilience.
"All of these things don't define black communities," Castro said. "Even though all of this and more happened, just as Maya Angelou said, 'Like dust we rise.'
"We succeeded in defying the predictions and achieving the unfathomable. We became teachers, inventors, pilots, lawyers and judges, mathematicians and engineers, painters, patriots… the list goes on. If you can't think of something black people did, wait a minute. We will do it."
Other speakers included the Reverend Preston Fuller, BEI committee member Reese Kelly, community member Barbara Finch, and Winnie Wilkinson, small business owner.
"I stand out as an African Caribbean woman," Wilkinson said. "But I'm proud to be an American…and I believe we can all collectively bring about the change needed to secure freedom for everyone."
Erickson said he and others have already discussed plans for next year's event which they plan to make "bigger, bolder and meaner".