Former industrial ports often represent the last stretch of underutilized land in urban settings; Once responsible for the economic growth of cities, these lands have been abandoned by the digital age. Their redevelopment requires impeccable foresight to reimagine vast areas, often bogged down by environmental misuse, as new spaces that connect both geographically and culturally to established cities. The revitalization of Toronto's 2,000-acre waterfront, an ongoing process spanning more than 20 years, is no exception.
Toronto waterfront seeks to be a precedent-setting project that goes beyond the status quo, aiming to provide a historic destination that includes inclusive community spaces, sustainability innovations, world-class architecture, bike paths, boardwalks and large amounts of open and wooded green space. The transformation of port landwhich includes the naturalization of the mouth of the Don River and new flood protection measures, is one of the largest infrastructure initiatives ever in Canada that will unlock 290 hectares of land for development and green space .
READ: New Cherry Street redevelopment plan could include an urban swamp
As the public and private sectors collaborate to distill higher-level visions into a cohesive network of neighborhoods and public spaces, a look at thriving waterfronts internationally is worthwhile. Revamped waterfronts, like those in Denmark, Norway and Sweden, are often seen as the highlight of their cities by residents and tourists alike. These Scandinavian countries offer significant direction as places with famous waterfronts that experience weather conditions comparable to Toronto.
Pleasure all year round
Ensuring that public spaces are not only accessible year-round, but also enjoyable, can have a significant impact on the mental and physical health of residents through activities that encourage movement and combat winter isolation.
Denmark's Aalborg waterfront, once the country's second-largest industrial city, has made convertible outdoor space a key part of its master plan. The area's central activity ground, for example, was built to accommodate a variety of games and sports, from beach volleyball in the summer to ice skating in the winter.
Swimming in the fresh water of Toronto's lakeshore is generally not recommended, making it difficult to emulate the famous Harbor Baths in Copenhagen. Copenhagen also embraces winter on "the lakes", or Søerne, where skating and other ice sports pour over the frozen water to replace the rental boats available in the warmer seasons.
Toronto's dramatically contrasting seasons can be seen as a challenge, but these examples show how such weather is also an opportunity to add excitement to the waterfront by showcasing multi-purpose public spaces that change with the weather. changing.
Preserving industrial history
Several former industrial waterfront redevelopments in Scandinavia incorporate elements of their respective industrial pasts to promote visual interest and education. The incorporation of unique historic elements of Toronto's waterfront would set it apart from the rest of the city and contribute to its status as a local and global lakeside destination.
The land redevelopment of Gothenburg Port, which unites seven city districts along the Swedish waterfront, includes the preservation of an old gantry crane called Eriksbergskranen. This unique relic of the city's large-scale maritime industry has a strong visual impact, adding an important cultural and historical landmark to Sweden's new waterfront.
Refshaleøen, a former industrial neighborhood in Copenhagen, preserves a rugged industrial feel by repurposing shipping containers along the waterfront, a stylish and eco-friendly practice that is already common in parts of Toronto. Another Danish waterfront public park, Havneparken, creatively converted an abandoned railway carriage into an exhibition space and an old ship's hull into a bandstand by turning it upside down.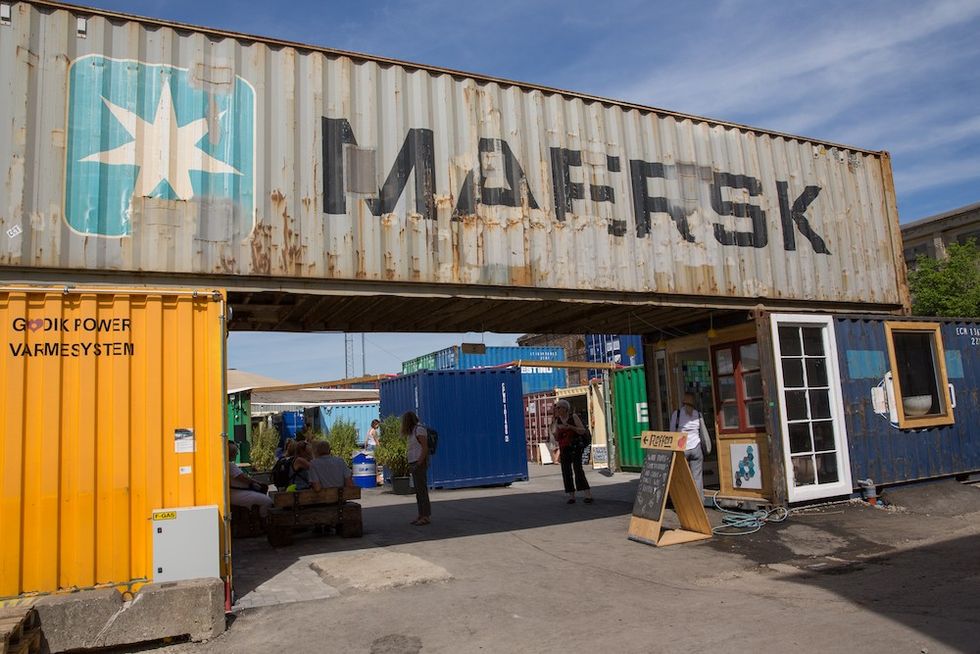 At Stranden, a redesigned waterfront promenade in Oslo, a signature color inspired by the region's maritime history connects that past with its current creation. The recognizable orange hue can be seen coloring street furniture, elements of building facades and wayfinding towers that provide historical information to visitors.
Mix public spaces and commercial uses
Of course, not all waterfront public spaces should be incorporated into commercial uses, but engaging retail businesses are key to attracting people to an area and keeping it vibrant. The lack of areas with continuous retail in some of the City of Toronto's earlier (and now abandoned) plans for the waterfront was a significant oversight.
In Copenhagen, beer gardens and food kiosks are used to liven up public spaces all year round, providing the perfect treat for the day's weather. Restaurants on most Scandinavian waterfronts offer alfresco seating by the ocean for visitors to take in the view, but there's also plenty of street furniture for those who prefer take-out. Bjørvika Barcode, a neighborhood adjacent to Oslo's prominent Opera House, is a prime example of how mixed-use development adds liveliness, functionality and shelter from the elements for those visiting or living on the seafront.
Varied mobility options without a car
The City of Toronto is committed to reducing car use and the waterfront is an opportunity to show how pedestrian-centric mobility can work while aligning with the ambitious sustainability goals of the project.
The Swedish district of Hammarby Sjöstad in Stockholm has set a target for 80% of all trips to and from the district to be car-free. The planners recognized that achieving this goal depended on integrating a good transport system into the redevelopment plan. Initial surveys before the site was completed in 2018 found that a third of all trips between Hammarby Sjöstad and the city center were already made on a new tram line built as part of the redevelopment and two-thirds of all travel in the 200-acre neighborhood was by public transit, bicycle, or on foot.
Copenhagen is well known as a cycling utopia and its waterfront lives up to its title by offering cyclists their very own Cycelslangen, or Cycle Snake, an elevated cycle path designed exclusively for cyclists. Beyond that, the waterfront offers plenty of shared infrastructure for walking and cycling that makes the car the least common mode of transport.
Oslo, Norway's capital, is reportedly experiencing record levels of cycling, which city planners attribute to the intentional lack of parking spaces in their recently redeveloped waterfront district.
Let's build an inclusive and accessible world-class waterfront
Vast amounts of time and money are being spent transforming Toronto's raw waterfront harbor and shaping the city's trajectory for decades to come, so we need to get it right. Examining the accomplishments of these Scandinavian cities will help designers and planners in the region succeed.