Endangered Animals of North America, Culture to Color's best-selling coloring book, began as a creative approach to comforting children and the elderly in healthcare settings during the COVID-19 crisis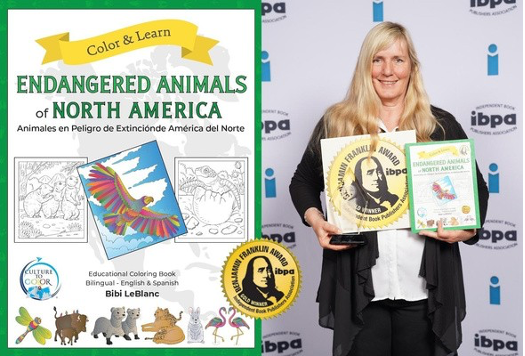 Orlando, Florida – June 7, 2022 – A coloring book published by Culture to Color to bring joy to patients young and old in healthcare settings during COVID-19 has won the highest award from the Independent Book Publishers Association (IBPA).
The project, Endangered Animals of North Americareceived a Benjamin Franklin Gold Medal at the IBPA Annual Gala, held on April 29, 2022 in Orlando, Florida.
Published in May 2021, the book features 45 full-page illustrations of endangered species, with bilingual (English/Spanish) stories about each animal.
"We are delighted that our Endangered species has brought joy and relief to many who have been isolated due to health issues during the pandemic," said Bibi LeBlanc, Founder and CEO of Culture to Color. "Thank you to the IBPA for this wonderful recognition."
Learn more about 'Endangered Animals of North America'.
According to the Publishers Association, entries for this year's competition were judged by 171 book industry professionals, from librarians and booksellers to writers and designers. In total, the IBPA received 1,894 registrations.
Judges called Endangered species "a great book with a purpose", "a wonderful educational coloring book" and "very engaging for children".
"This book demonstrates the concept that learning can be fun and enjoyable! I really like the idea of ​​having good quality informative content and the ability to show creativity and imagination through coloring," wrote an IBPA reviewer.
"Loved the approach to engaging the next generation in animal preservation and protection," another judge wrote.
Endangered Animals of North Americaa Amazon bestseller, also won a silver medal from the Florida Author & Publisher Association.
LeBlanc said the project started with coloring kits — loose-leaf coloring pages with colored pencils or markers — that her team distributed to hospitals and nursing homes near Culture to Color's headquarters. in DeLand, Florida. "We are thinking of you," they wrote in notes attached to the hundreds of kits they distributed at the height of the pandemic.
When someone asked if Culture to Color had a similar kit for kids, she reached out to one of her designers and asked for five drawings of local endangered animals in Florida. The illustrations were so beautiful, LeBlanc said, that she decided to make an entire book and expand the scope to include Canada and Central America.
"A lot of emotions go into creating a book: the joys and sorrows, the frustrations and ultimately the satisfaction when it's finished," LeBlanc said during his award acceptance speech. "At Culture to Color, we are grateful to those who inspire us, as well as everyone who has contributed to the creative process behind endangered animals North America."
Contact Culture to Color if you would like to receive a free review copy of Endangered Animals of North America. Author Bibi LeBlanc is available for interviews.
Culture to Color is a publishing house that shines a light on the countless stories of communities around the world in new and engaging ways, through engaging and educational coloring books.
Media Contact
Company Name: From culture to color
Contact person: Bibi LeBlanc, Founder and CEO
E-mail: Send an email
Call: (+1) 386.228.5147
Country: United States
Website: https://www.culturetocolor.com/