The Cannon Beach Sandcastle Contest began in 1964 when a tsunami washed away the Elk Creek Bridge and residents were relatively isolated until a new bridge could be built. That spring, local families came together for a sandcastle contest to entertain their children and attract visitors.
This sandcastle contest has become one of the largest sandcastle contests on the West Coast.
After two years of promotional builds followed by a summer-long virtual contest, an Oregon Heritage Event, the Cannon Beach Sandcastle Contest will return to a one-day, in-person format on Saturday, June 11.
"We're excited to be back at the beach!", Jim Paino, executive director of the Cannon Beach Chamber of Commerce.
This year marks the 58th year of hosting the Sandcastle Contest at Cannon Beach.
Divisions of the contest include sand flea, junior, teen, small group, large group, and master. Building will begin at 2:00 p.m. and final judging of the Masters Division will take place at 7:00 p.m. The rules of the competition are simple and no theme is imposed. Each team is given a patch of sand in a designated viewing area and sand cannot be added or removed. Only natural materials found on the beach such as sticks, shells, rocks and seaweed may be used for ornamentation. No artificial coloring, paint, flour, sugar
Keeping the annual Cannon Beach sandcastle contest going is the goal of committee chair Debbie Nelson throughout the year. Working with a team of volunteers to fulfill this local tradition and bringing competitors and spectators back together to create the "magic of the sand" will be the highlight to kick off the summer season.
Every year during the Sandcastle contest, that's the only day you're allowed to park on Cannon Beach. New this year will be a $5.00 parking fee for beach events.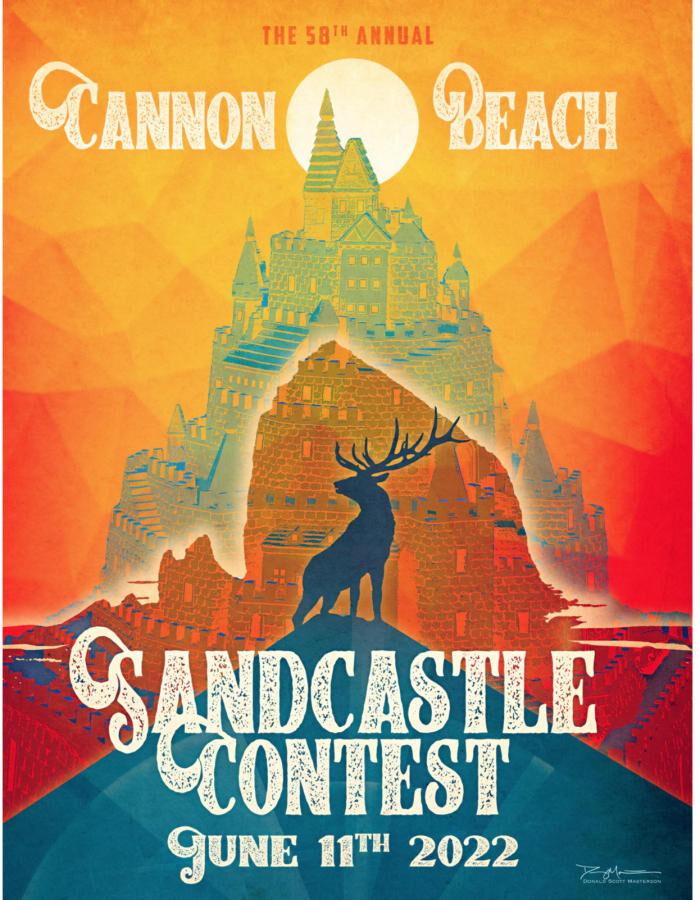 The masters division is by invitation only. Please contact Jim by email [email protected] or call 503-436-2623
To register or for more information, visit cannonbeach.org/sandcastle
Program:
Fri 10 June | 7:30 p.m. Bonfire, Music & Smores Free admission on the beach off 2nd St.
Sat. June 11 | 2:00 p.m. Beginning of the construction of the sandcastle contest | 7 p.m. Final judgment
Sun. June 12 | 9:00 a.m. Singing Sands 5K Fun Run/Walk
Display
This year's Sandcastle competition poster was designed by Donald Scott Masterson. Materson, a multi-media artist, has called Cannon Beach home since 2000. Born in Oregon and raised in Canada, his career has spanned as a graphic designer for a Nashville record label, to art director for Disney and Universal Studios in China. Inspired by the beauty of Cannon Beach since his early childhood while visiting his grandmother, he strolled through local galleries and was inspired by artists like Jeffrey Hull and Bill Steidel. Today, her paintings can be seen in local restaurants and hotels such as The Stephanie Inn and Pelican Brewery, as well as in private collections across the Northwest. When he's not working in his studio at home, Donald spends his days on film sets as a set designer and sculptor. He was honored to have been asked to create his first poster for the Sandcastle competition in 2006, and equally thrilled to create the new poster for the 2022 competition.